I enjoy being alone sometimes. I love silence, but I also appreciate noise — like being alone in a crowded room.  Something about being alone brings me back to center. Being by myself slows me down, and allows my mind to be still with solitude, but at the same time busy with clarity. In this post I am sharing 5 reasons why alone time is so important, and how to get to know yourself a little better!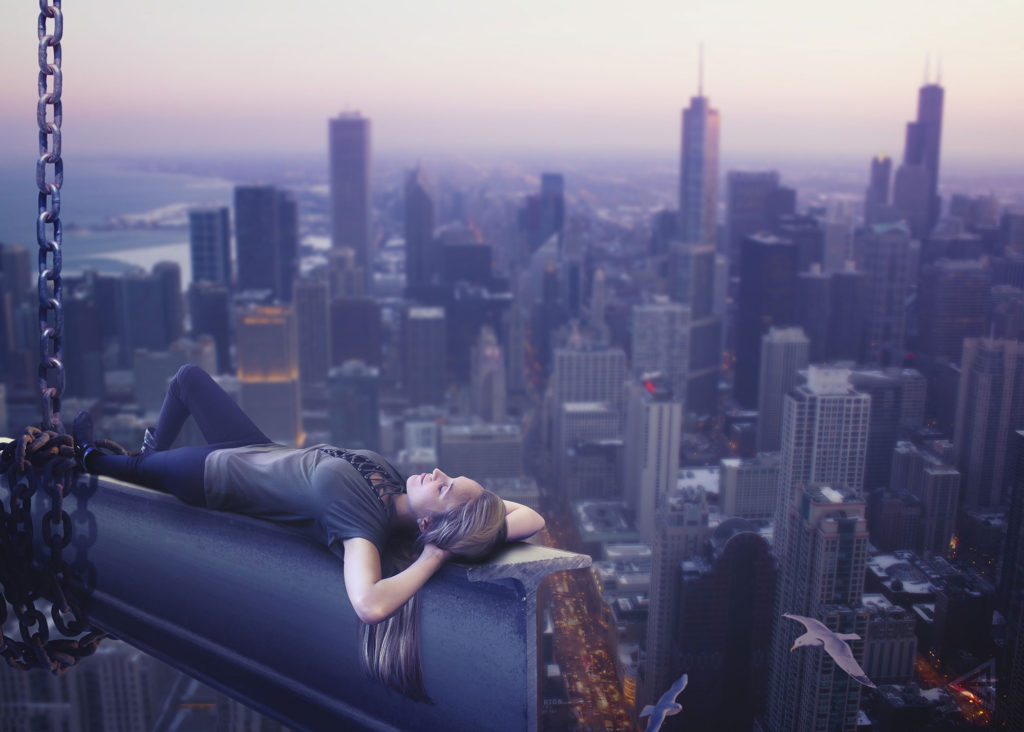 Photo by Studio Eiler @studioeiler
I've spent a lot of time alone but not truly alone.
I always have something on my mind when I have an opportunity to take a break from life's daily demands and my work schedule.  What am I having for dinner tonight? When am I going to have time to work out? What's happening a week from now? Or, I'm wondering what exactly I should be doing with myself instead of just enjoying the fact that I have this completely open moment.
I am rarely just alone with my thoughts and if I am, I usually push them out of the way. I think that there has to be something more important that I should be doing in this moment. I mean, I'm with myself all of the time, right? There is too much to do rather than just sit here and listen to my thoughts.
What I didn't realize is that for so long I was ignoring the thoughts and feelings of the person who actually controls my life: me.
I think we should all spend moments alone sometimes.  I know it's hard in our busy lives, but I believe it's truly important.  We are wired to always be connected to something … but what about being connected to ourselves?
[ctt template="2″ link="2eiC9″ via="yes" ]We are wired to always be connected to something … but what about being connected to ourselves?[/ctt]
It's not selfish to take time for yourself when you need it (or even when you don't necessarily need it!).  In fact, I think it's one of the most important things that we can do to ensure self-care, and it's one of the most essential parts of any relationship.  Spending time with yourself and your thoughts every now and then can be the rejuvenation we need in this busy life.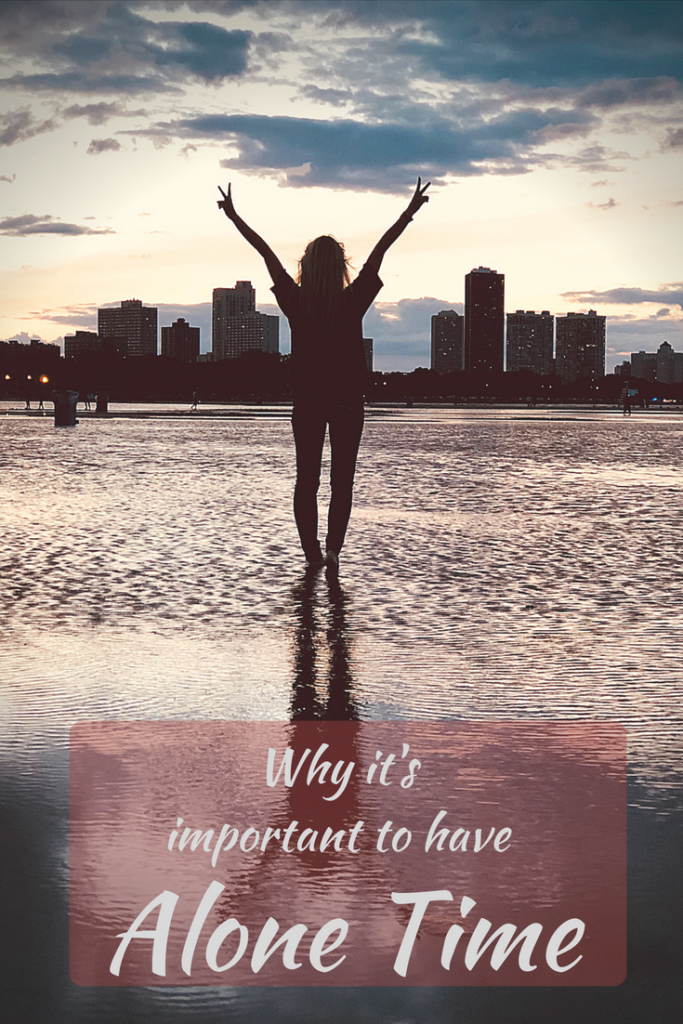 5 Reasons Why It's Important to have Alone Time
(Hi Self, Nice To Meet You!)
1. To Be more mindful of yourself
I think so often we feel that when we have alone time we need to be filling it with something, especially if we don't have the opportunity to be alone very often. Instead, just be present. Become mindful of how you feel and what your mind is telling you.  Turn off the chaos of life and tune into the chaos of your mind.  What is your mind thinking when you have a moment of solitude? Pay attention to these thoughts — they could teach you something new about yourself!
2. To find your voice
When you spend time alone, your voice is dominant. There are no other influences in the picture, and you have an opportunity to reset and make decisions based on what your are truly feeling in your heart. If there is something that is bothering me or a problem that I am trying to solve, I have the most clarity and resolution when I am free of distraction and the demands of the day. Sometimes I am able to have this time on my commute home from work each day, or I might take time to go on a walk around the block or a solo run in order to reset and allow my true thoughts and feelings to surface. Whatever it is I am doing, I am sure to listen to what that voice inside is trying to tell me.
3. To make memories with yourself
I have created some of the most amazing memories with my friends, but what happens when you venture out on your own and create memories with yourself? I personally have this terrible habit of getting out my phone and occupying my eyes and my time with pretty much anything on my screen when I walk into an experience by myself. If I'm meeting a friend for dinner and they have not arrived yet, I get out my phone. If I am waiting at the doctor's office, I get out my phone. If I'm in an elevator with a few other people, my first instinct is to get out my phone.  Being alone with strangers can be uncomfortable sometimes.
We can make amazing memories when we are by ourselves, whether it is in the comfort of our home, or in a crowded room. When you are participating in an activity with yourself whether it be a concert, a dinner, a walk on the beach, traveling, or simply going into a store and shopping, truly take in the experience and make a memory.  When you are alone, it's an opportunity to be free of distraction, to focus on what you're doing and the scenery around you, and to make a memorable experience just as you would if you were with a friend!
4. To create
Solitude of the mind allows creativity to flow.  When you are by yourself, it's easy to become inspired in what you see, in what you are feeling, or in a thought. Whether it's cooking, making music, writing, painting, crafting, decorating, or whatever your favorite creative outlet may be — find inspiration in what you are creating. Write your ideas down and come back to them later, but don't lose those creative thoughts that come to you in those moments!
5. To thank yourself and love yourself
When you have a moment to spend by yourself, live in it fully. I have found through my personal journey towards self-love that being alone with yourself and loving that person you are is key. Thank yourself for your company, and appreciate your thoughts, feelings and emotions. While it might feel uncomfortable to show yourself this much gratitude, I have found that showing myself appreciation and accepting myself for who I am only strengthens my relationships in my life. It all starts with you.
[ctt template="2″ link="6B6L_" via="yes" ]Get to know your joys, your fears, what makes you feel every emotion, and what you love in life. I mean truly get to know who you are and celebrate every piece. And then love every piece unconditionally[/ctt]
Take time to get to know yourself, just as you would take the time to get to know a friend. Get to know your joys, your fears, what makes you feel every emotion, and what you love in life. I mean truly get to know who you are and celebrate every piece. And then love every piece unconditionally, despite the flaws you uncover, the things you wish you could change, the everyday battles, the regrets you may have from a past life. Because when you know that you are always there to pick yourself up, nothing can ever keep you down.
Spending some time with yourself might be just what you need to see the light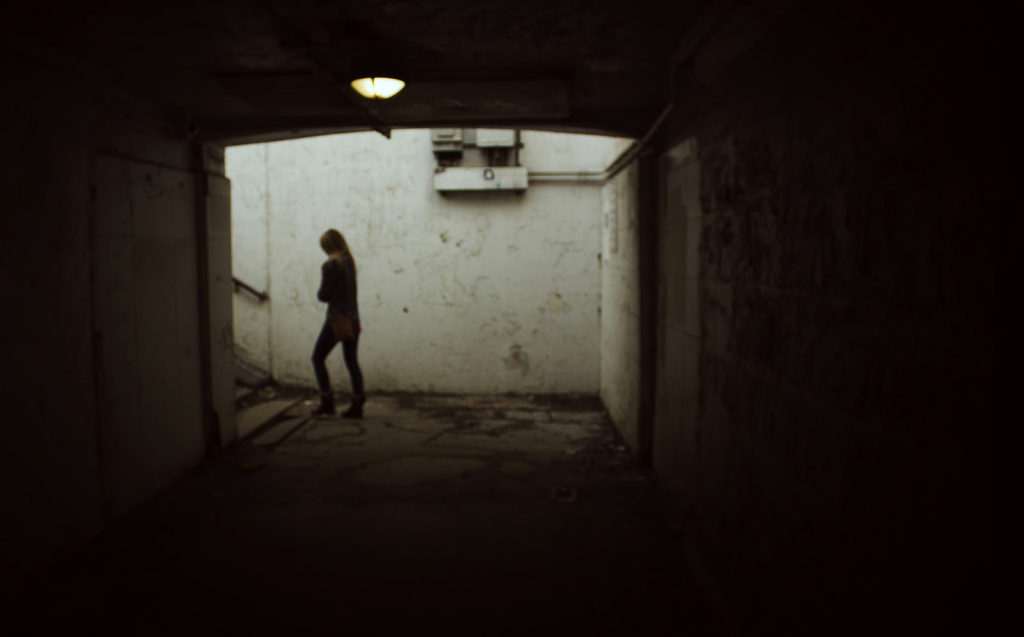 We can learn a lot from the people in our lives, and it's true that life is sweeter when we form close bonds and relationships. But remember to include yourself in this equation!  Make time to learn, listen, and simply be … with yourself.
Wishing you zest & light,
Stephanie =)
Save
Save
Save
Save
Save
Save
Save
Save
Save
Save
Save
Save
Save
Save
Save
Save
Save
Save
Save
Save
Save
Save
Save
Save
Save