What do you feel lucky to have in your life? Or maybe you don't feel so lucky?  Maybe "luck" is a symbol to you — a pot of gold, the color green, or a leprechaun. Whatever the word luck means to you, I am here to tell you that you are in fact lucky in ways that you might never have considered!
I asked myself this same question I just asked you.  I composed a list (I am ALL about making lists) of things in my life that I feel fortunate to have, including my job, my family, my friends, where I live, my cats, etc.  As I continued to add onto this list though, I realized that I was still having thoughts creep into my mind of things in my life that I don't have, as well as thoughts of parts of my life that I wish were a little different.
I believe these are natural thoughts to have when you are reflecting on your life — we are conditioned to constantly be aiming higher and setting new and improved goals to obtain new and improved things in life.  Even still, it definitely didn't make me feel as "lucky" as I was hoping to feel in that moment.
These thoughts made me consider what truly feeling lucky might look like when you know that something is just the way it should be and it cannot be taken away or made better.
"When you realize nothing is lacking, the whole world belongs to you." -Lao Tsu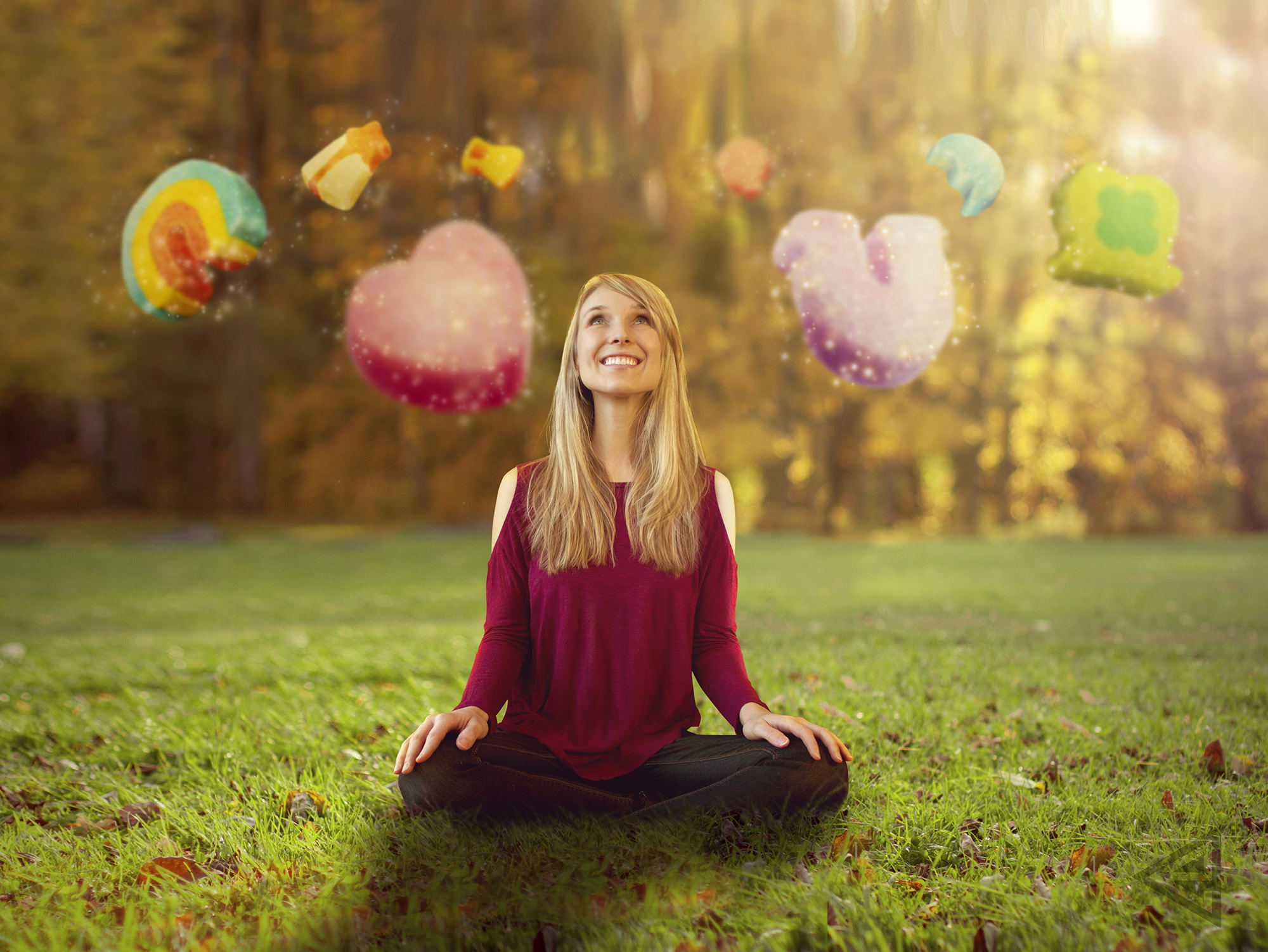 The key to realizing that "nothing is lacking"?  Look at what you have, not in your physical world, but in your mind, and in your body.  If you have a powerful mind/body connection, you are already winning at life.  Now I am not a doctor or psychologist, but I have taken an interest in learning more about the benefits of mindfulness and the mind/body connection and applying this way of thinking into my daily life, and it has definitely made a difference in how I am navigating through this life.  When you are "Mindfully Lucky," you realize that you are actually lucky enough to have all of the tools for a happy, healthy life right inside of you
[ctt template="2″ link="05U64″ via="yes" ] When you are "mindfully lucky," you realize that you are actually lucky enough to have all of the tools for a happy, healthy life right inside of you. [/ctt]
How to be Mindfully Lucky
I decided that it would be super fun to use the luckiest cereal around to describe what the idea of being "mindfully lucky" means to me! So here we go!  "Mindfully Lucky" explained using the marshmallows of Lucky Charms Cereal!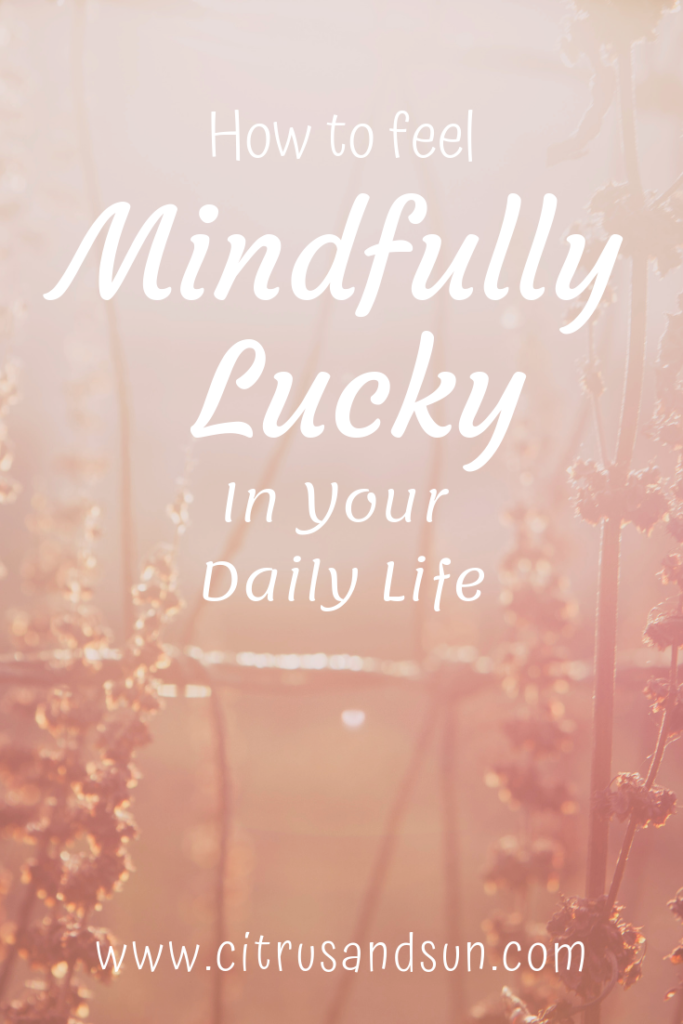 Balloon Charm
~ Feel lucky to have the ability to take a deep breath…hold it….and let it go ~
We are lucky to be able to take a deep breath and fill our lungs up with air and then let it out, over and over and over.  Breathing is such an important factor of mindfulness, and it can bring you back into the present moment if you slow down and focus on this amazing process.
Heart Charm
~ Feel lucky to feel ~
We are lucky enough to have some of our best teachers that help us learn more about ourselves right inside of our minds and bodies.  I'm talking emotions!  If we observe our emotions (especially the unpleasant ones), we can learn about ourselves at a deeper, more introspective level.  By learning about ourselves through our emotions, we can navigate through certain situations more effectively in the future.  As a bonus, feelings — the good, the bad, the ugly, and the pleasant — make us human and show us that we are gaining experiences and living our lives! And let me tell ya, it is great to feel alive!
Shamrock Hat Charm
~ Feel lucky to have the ability to connect our mind with our body ~
Our mind is the most stylish hat that we can wear, and when our mental state and body are coordinating and speaking the same language, we feel more in control of our present moment.  Meditation is a form of guided thought that can help us make this connection.  You can also experience this connection by simply realizing how your body reacts to certain emotions and thoughts.  We are so lucky that our body gives us signs as to how we might be feeling – we just need to learn to recognize and respond effectively.
Crescent Moon Charm
~ Feel lucky that inner peace is an option ~
When we close our eyes at night and those thoughts of the day come rushing into our minds, we have the opportunity to choose peace and accept these realities for what they are in our lives.  We also have the ability to train our minds to have confidence that we will be able to handle the experience or thought accordingly.  With mindfulness, we have the control to let go, accept, and create order in our lives.  That is some pretty special power that we are lucky enough to hold in our minds!
Horseshoe Charm
~ Feel lucky to be present ~
From the moment our feet are connected with the ground each morning, we are surrounded by sounds, sights, smells, and visual wonder.  Being present and connecting with the world around us might be one of the most important thing we can practice. If you engage, you might be lucky enough to experience something that you've never experienced before!
Rainbow Charm
~ Feel lucky to access our inner empathy ~
When you are "mindfully lucky," kindness and compassion are second nature because your heart is open. You are able to truly listen and understand the feelings and actions of others.  Connecting to people is just as important as connecting to nature and our surrounding world. To access and use this inner empathy is good for the heart and the soul. Read my post on how to be a more mindful listener in everday life!
Shooting Star Charm
~ Feel lucky to have infinite possibilities in your life ~
When we practice mindfulness, the dust clears and we are able to see the infinite road ahead of us. It's clear and open, just like your mind.  While mindfulness emphasizes being in the present, it also clears our mind of worry and anxiety so that our future is unclouded.
And this brings me to the Pot of Gold Charm! To me, this charm represents making every moment valuable.  When we feel "Mindfully Lucky," we are able to see the relevance of smaller moments in our lives and be present for the whole experience.
Being mindfully lucky shows us that we don't need to look outside of ourselves to realize our luck. We don't even need to "make" our own luck. Instead, we should begin with our mind, our body, and the now.
Wishing you zest and light,
Stephanie =)
Save
Save
Save
Save
Save
Save
Save
Save
Save
Save
Save
Save
Save
Save
Save
Save
Save
Save