What makes the invitation to "meet for coffee" or "talk over coffee" so warm and alluring?  For me, it is knowing that during that conversation, something as strong as the coffee I am drinking is going to take place.  I never know what it is going to involve, or at what point of the conversation it will happen, but I know it's a guarantee that I will leave that conversation somehow different than when it began.

…Maybe I will learn something new.  Perhaps I will share something I wasn't planning on sharing, but will be so happy that I opened up to someone.  Maybe I will laugh so hard that I will forget why I am laughing in the first place.  Maybe I will cry.  Maybe I will become inspired.  Maybe I will be pushed out of my comfort zone.  Maybe I will understand that person on a deeper level.  Maybe I will have a deeper understanding of myself.  Maybe I will simply be lucky enough to experience an amazing conversation that probably needed a map to follow, but was completely understood and savored from start to finish by both people.
"One good conversation can shift the direction of change forever." -Linda Lambert
And this interaction is not only found at your local Starbucks or coffee shop.  In fact, nowadays most of my "talks over coffee" happen right in my own home.  For this, I must give credit to my parents who demonstrated communication at its finest as I was growing up over many cups of coffee along the way.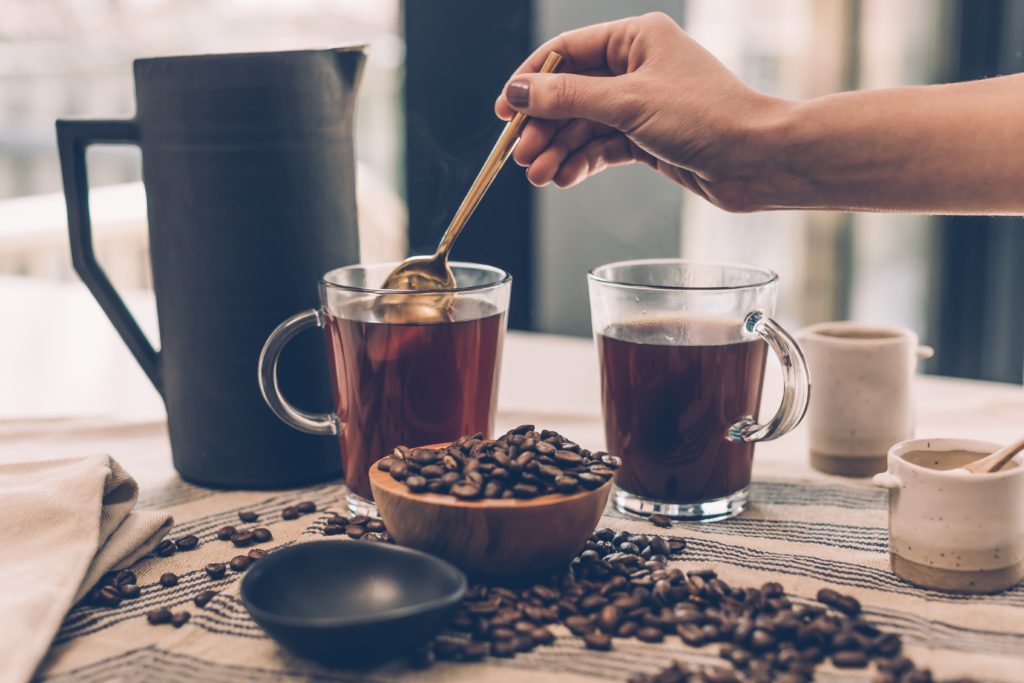 Why I love conversation with a good cup of coffee
Although I no longer live with my parents, I am still excited during my visits to their home when I am awakened by my mom preforming  the simple ritual of turning on the coffee maker, which leads to the sound of brewing and the delicious warm smell filling house.  Most mornings, I will awaken to find my mom and dad sitting comfortably in the living room engrossed in conversation, a cup of coffee in each of their hands.
[ctt template="2″ link="SoHa7″ via="yes" ]Engaging in a conversation over a cup of coffee with someone has the potential to change both of your lives forever.[/ctt]
The house is completely quiet except for the sound of their voices.  I grew up noticing these daily morning meetings that still happen to this day, knowing that this was an essential component that I wanted in my future marriage.  Basically, I wanted to find my someone who I could solve the world's problems with "over coffee" for the rest of my life, just like my mom and dad have done for so many years.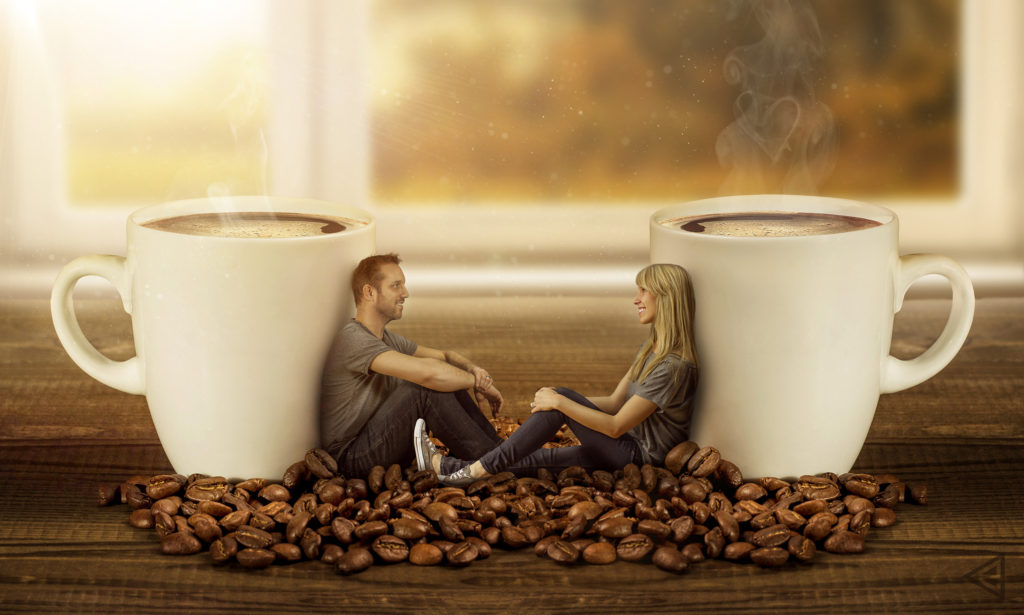 Photo by Studio Eiler @studioeiler
Okay, Stephanie, we get it — you like coffee!!  But how is a cup of coffee with someone going to change my life??
Promoting the activity of coffee drinking is not what this post is all about (although I obviously enjoy it quite a bit), but rather to promote conversation.  This conversation could be with your spouse, a parent, a friend, or simply someone you are getting to know.  While asking someone to sit down and "have a cup of coffee" with you can quite literally mean sitting down and enjoying a comforting, warm drink, it can also be a code phrase for taking the time to have a meaningful conversation without distraction.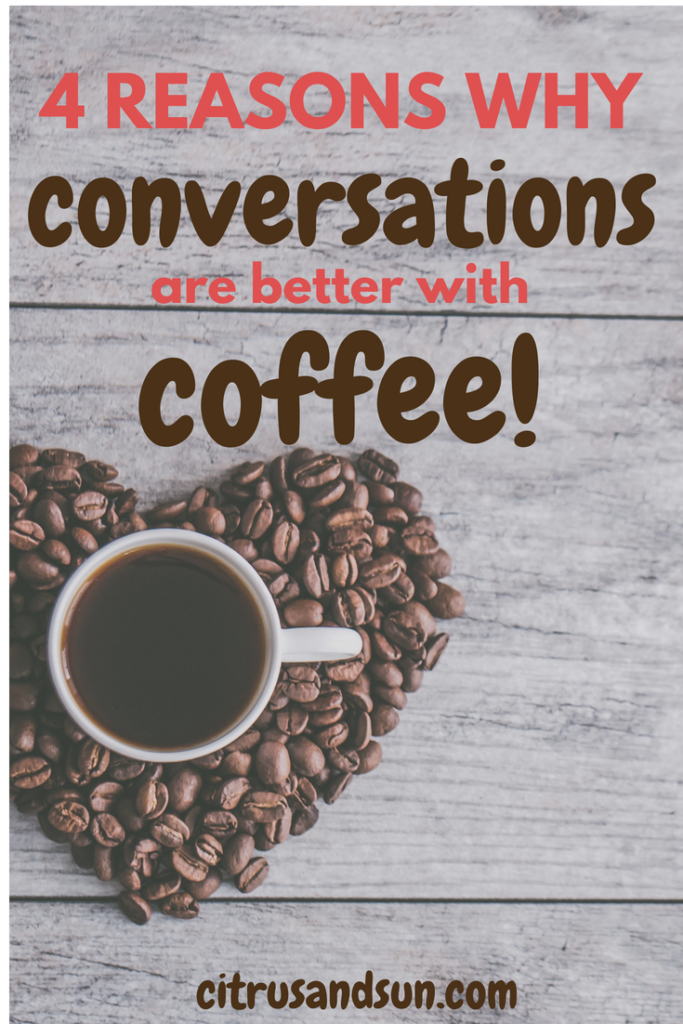 1. Ideas come to life!
When you have the opportunity to sit and discuss ideas or thoughts with another person for an extensive period of time, there is no telling what that conversational map will look like!  I have had some of my best ideas and life epiphanies come to me when I am mindfully listening and discussing topics with a friend or family member.  I've had times when I've become inspired by something the other person said or what they were describing from their own lives. I have also had times when just talking about an idea out loud has driven my enthusiasm and motivation to start something new.  You never know when you could be doing the same for the other person, too!
2. Difficult conversations might seem less daunting
One thing I have learned through relationships is that it is best to sit down and discuss challenging topics in a relaxed state rather than let them build up to the point that they arise in a moment that doesn't allow you time to actually have a conversation and find resolution.  My husband and I have had some of our best conversations on the weekends in the mornings when we are drinking our coffee and have time to just sit together and talk before the day begins.  Some of our more serious life conversations have been mixed with some of our most amusing conversations!  We will end up laughing hysterically about something literally five minutes after talking about what we need to do to get our taxes in order.
Life conversations need to happen, but they don't need to be intimidating or rushed. Instead, savor them and appreciate the fact that through them you are building an even stronger relationship with that person.
3. You actually have time to experience emotion
Releasing emotions – the good, the bad, and the ugly – is good for the soul.  I can't tell you how many times I have been having a cup of coffee with someone and have laughed, cried, felt upset, and joyful all in the same conversation.  Engaging honestly in a discussion by both listening and responding can bring many feelings to the surface, and these feelings can also change in an instant with the flow of the conversation.
When you take the time to sit down and have a conversation with someone, you also are allowing yourself the time and the opportunity to experience and release these emotions. This release is both refreshing and healthy for the mind and body!
4. You feel connected, despite what might be going on with the internet connection

Our definition of being "connected" has changed quite a bit over the last decade.  But I promise you that there is nothing more connected than sitting at a table or on the couch with someone, looking them in their eyes as they speak, listening to them laugh and feeling yourself begin to smile, hearing the emotion in their voice, and of course, feeling the warmth of your coffee cup between your hands.
If you could sit down and "have a cup of coffee" with anyone…who would it be?
Wishing you zest & light,
Stephanie
"Only one thing is certain about coffee…Where it is grown, sold, brewed and consumed, there will be lively controversy, strong opinions, and good conversation." -Mark Pendergrast
Save
Save
Save
Save
Save
Save
Save
Save
Save
Save
Save
Save
Save
Save
Save
Save
Save
Save
Save
Save
Save
Save
Save
Save
Save
Save
Save
Save
Save
Save
Save