"It seems strange
How we used to wait for letters to arrive
But what's stranger still
Is how something so small can keep you alive."
-The Arcade Fire (We Used To Wait)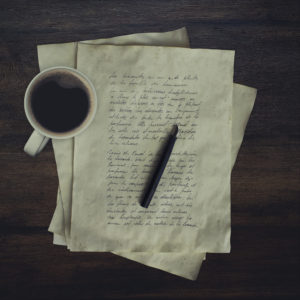 When was the last time that you received a handwritten note or letter? I am talking about a note on paper that was longer and more involved than, "Don't forget to buy milk!" A note that you had to unfold to read, physically hold in your hands, or maybe even reread because the person's handwriting was so unique that you couldn't make out some of the words right away.
Yesterday, on a 49 degree Chicago day (basically Spring in the Midwest, am I right?),  I decided to open up some windows, pull down a few of my "organized" plastic bins of who-knows-what from the closet, and do some Spring purging. As I was rummaging through all of the blank cards, the magazines, the decorations, and random old papers, I stumbled upon a folded up piece of notebook paper.  I opened it, and found a handwritten note from a friend from high school that was written for me to most likely read between classes.   Now first of all, I was a part of a graduating classes that escaped high school without having access to social media and texting.  And when I say escaped, I mean BARELY escaped.  It was only a couple of years later that the immediate conversational convenience of texting and Facebook flooded our phones, and seemed to make connecting with each other both easier and a little more complicated at the same time.
Okay, back to the note. In this authentic piece of writing, my friend was assuring me that, despite my failing grades in both Calculus and Physics, my position as the National Honor Society's Tutor Chair would not be in jeopardy, I would still get into college, and that everything would "be okay."  Judging by the content of this note, which was line after line of encouraging me to basically not give up as a human being, I concluded that I had apparently thought that my life was over.  As I read this note though, the memories of this time when I was genuinely worried about my future because of a few grades came flooding back, and I remembered receiving this note from my friend and reading his words over and over again, regaining hope.  Even in that present moment reading his carefully, thought out and encouraging words written down so intentionally on this piece of folded notebook paper made my spirit feel lifted.
There was always something so magical about waiting for a note between classes from a friend, or anticipating a letter to arrive in the mail.  Excitement, hope, and even some nervousness occurred all at once to create this experience of feeling alive and acknowledged.  And writing letters and notes made me feel like I was a part of something small and significant all at the same time, if that makes any sense at all.
Could taking time to write notes or letters strengthen our relationships and communication with our friends and family?
Maybe!
I know that for me personally, a couple of things happen when I write a note or a letter to someone:
I am more thoughtful with my words
There is just something about writing out words by hand that makes my creative, deep side come out.  Whether I am writing a note in a card for someone's birthday, or a letter to my husband, I feel like my handwriting is a very personal version of me communicating to my reader, and I want to make sure that it sounds just the way I would speak to that person.  My heart speaks, and my hand writes.
I feel closer to others
Words handwritten in a letter or note were crafted from someone to you.  Someone took the time to respond to you, to communicate with you, to engage in an interaction with you that took time, effort, and materials.  It's pretty cool if you think about it, especially in this present day with our busy schedules.  Receiving a handwritten piece from someone makes me feel more connected with that person.
I slow down my world and focus
Handwriting a note forces you to slow down and plan out what you want to say.  It is not as easy to erase or "delete" when you are handwriting a message, and it doesn't look as clean either!  In this busy world of instant communication, it's easy to not even communicate in sentences to people (which I totally understand can be fun, especially if Emojis are involved).  But handwriting a note forces you slow down, consider the person, and focus on crafting your words especially for them.
The communication is more memorable
Probably because of all of the things I listed above, right??

Photo by Chuck Eiler @StudioEiler

"Writing isn't letters on paper.  It's communication.
It's memory." -Isaac Marion
I'm very aware that writing a letter takes time, and I am not suggesting that we bring back this type of communication as a part of our daily lives.  The world has evolved into this amazing place where technology has allowed our communication to be instant and more efficient, which as a result accomplishes a lot more in a short amount of time.  Please do not think I am anti-technology or ungrateful for these major steps that we as a human race have taken towards connecting with one another.
But what I am saying is consider taking time to hand-write someone a letter or a note.  Craft your words carefully just for that person.  Nowadays, there is something just so intimate and special about receiving a piece of paper or a card with someone's unique handwriting speaking for that person.  That letter from my high school friend is a time capsule, a reminder of a close connection and friendship I once had, and an inspiring reminder of the power of handwritten words.
So grab a cup of coffee or a glass of wine, some paper, and a pen. Send a letter of encouragement, a letter just to say hello, a thank you letter, a "thinking of you" letter, or a letter congratulating someone on any accomplishment.  Maybe you will have to send it in the mail (it might be refreshing to use that mailbox for something other than sending bills!).  Maybe you can leave it on the kitchen counter for your husband/wife to see in the morning.  Maybe it's as simple as leaving an encouraging post-it note in someone's mailbox at work.  Consider how that other person will feel upon receiving your handwritten note that you took time to write them.  They might not respond with a written note back for you to read between classes or work calls, but maybe it will be reciprocated by another one of our numerous modes of communication that we are so lucky to have in our present world.  Relationships are built on communication.  Maybe taking our mode of communication back a couple of stages in time could actually help take our relationships to the next level.
Wishing you zest & light,
Stephanie
Save
Save
Save
Save
Save
Save
Save
Save
Save
Save
Save
Save
Save
Save
Save
Save
Save
Save