May is in full swing and summer is on its way!  In this edition of Citrus & Sun Moments, I am sharing about my newfound love for essential oils, how The Cranberries (yes, the 90's band) saved my daily commute, and my excitement for those incoming summer vibes taking over Chicago!  I'm also sharing my May playlist which includes all of the songs that I can't stop listening to this month!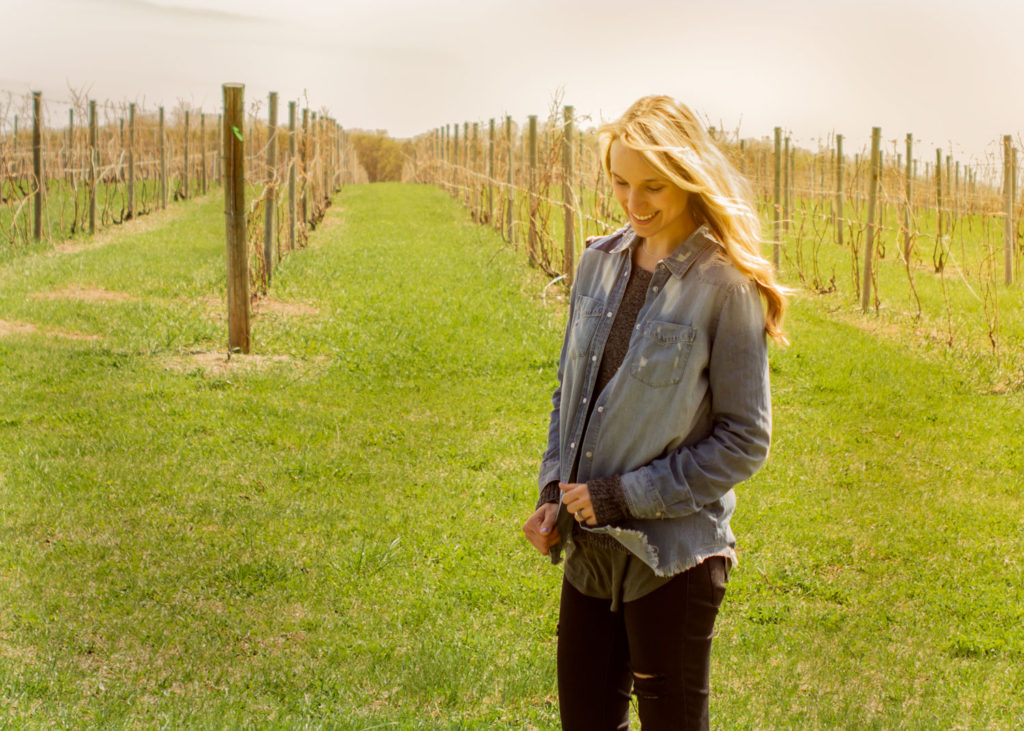 Cherry Trees and Daydreams
May is such a beautiful month, isn't it?  Even though the world seems to become busy with activity because of the warmth and sunshine, the flowers and the fresh air bring a soft calmness to the world that causes me to move a little slower and take a moment to smell the roses!
This month, Chuck and I celebrated our second wedding anniversary in Traverse City, Michigan.  During our 4-day much needed getaway we relaxed and talked endlessly, surrounded by cherry trees, vineyards, and wineries.  With life and schedules getting a little crazy over the past month, it was so nice to just take a pause, escape the city, and unwind.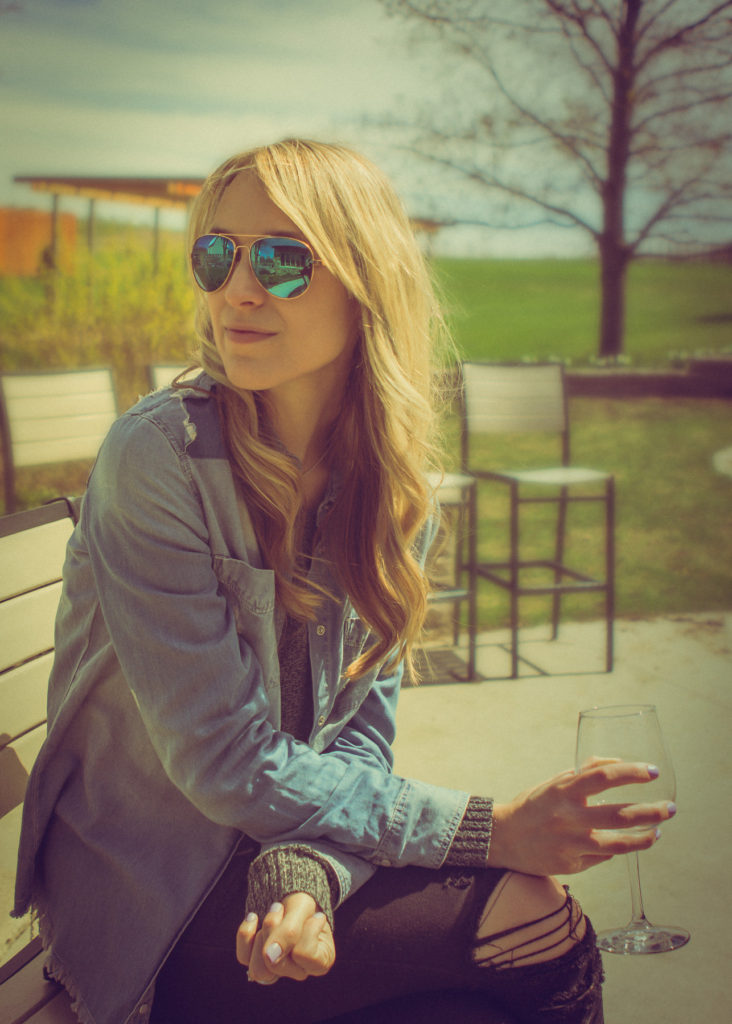 May Zest & Light
It's time for some of those small moments from this month that have brought zest and light to my life!  New to Citrus & Sun?  Visit my about page to read more about the meaning behind my blog and these monthly moments that I am sharing with you!
1. Vanilla Bean Frappuccinos
I know these aren't a new thing, but I have only recently rediscovered my love for them and I might have a mild obsession.  I've never had a huge sweet tooth, but lately when I've been craving something cold and sweet, a Vanilla Bean Frappuccino from Starbucks is always the answer, whipped cream and all.
2. The Cranberries
I have quite the commute to and from work each day.  After about four years of making this drive, I am used to it most days and sometimes even look forward to those quiet moments in the car listening to music or my favorite radio talk shows.  But every year around the end of April/beginning of May, traffic gets BAD. Though I know that this part of the Chicago traffic pattern comes every year….well, I just don't like it.
This year the traffic went through its sudden change on a morning when it was pouring rain and I was already running late.  While normally traffic is moving when I get on the highway, it was at a complete standstill.  I could feel the combination of panic and annoyance pulsate through me as I sat there completely helpless among hundreds of gridlocked cars.
But then . . . (dramatic pause) . . . a familiar song started to play on the radio: "Dreams" by The Cranberries. In an instant my entire mood completely changed.
I felt myself relax. I had this feeling of joy come over me. All of my stress and panic totally went away. I've heard this song hundreds of times seeing as it's about 25 years old and I've always loved it, but for some reason on this particular day and in this moment it soothed me as I sat behind the wheel of my car. I have no idea why, but now whenever I am stuck in traffic I turn on "Dreams" and my world is changed. Do you have a song that does this for you??
3. Aromatherapy and Essential Oils
After receiving a beautiful diffuser from one of my friends for my birthday last month (shout out to Michele!!), I have a newfound love for essential oils.  Lavender, eucalyptus, peppermint — all my favorites! I have read so many articles on how aromatherapy and essential oils are beneficial for psychological and physical well-being, and I totally believe it! I use mine almost every night while I am writing or when I am winding down before bed, and the smell, the sound, and even the color relaxes my mind and my body. I have linked mine here for you to check out! If you have any recommendations for essential oils that have worked for you, please share!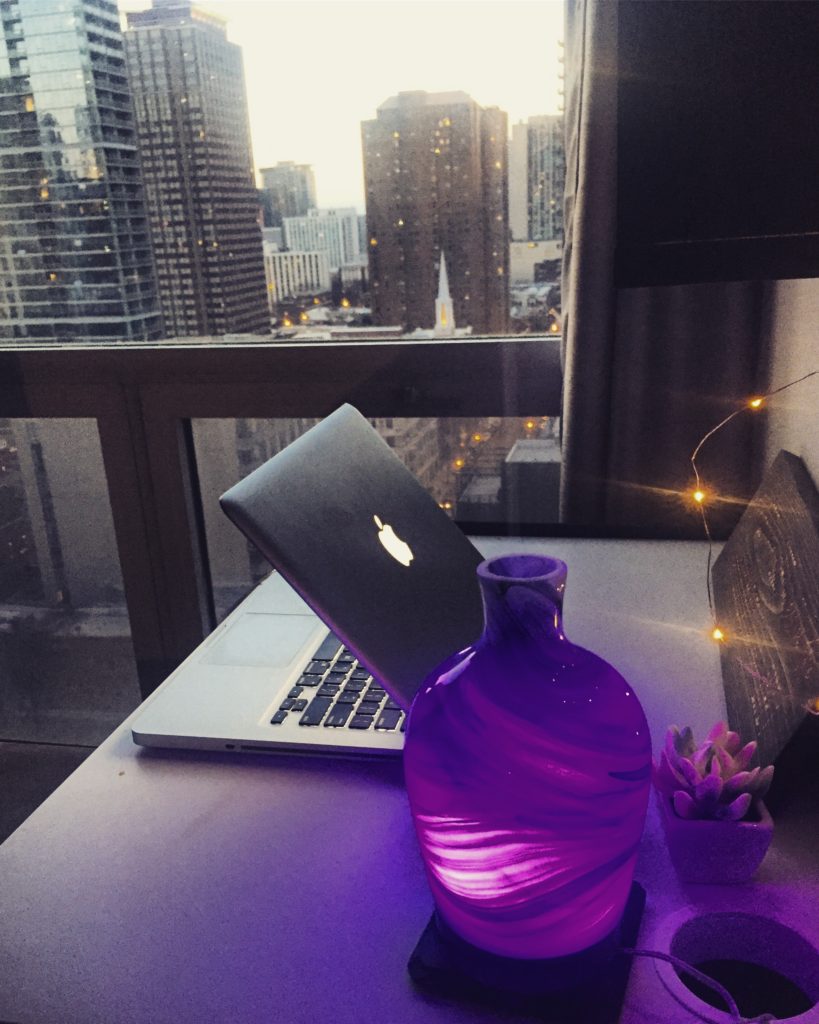 4. Mondays that feel like Fridays
Several weeks ago, Chuck and I took a walk to go to the grocery store on the first night that it was actually warm enough to sit outside in a t-shirt and shorts or a cute dress and not be shivering with discomfort. It was either a Monday or a Tuesday night, but you would have thought that it was a Friday!  Every outside patio was jammed packed with people sipping on cocktails, boats were making their way down the Chicago River each blaring their own music, and laughter and conversation filled the air.
This time of year I love being able to open my window on any night and hear the chatter of people down below at the local rooftop and the beat of music from car windows.  I find joy walking down the street on a Monday and seeing people enjoying each other's presense outside on patios, sharing appetizers and a bottle of wine.  As much as I dislike traffic as mentioned above, I enjoy seeing the streets lined with cars of people visiting the city throughout the week. There is a certain comfort in knowing that no matter what day it is, I can hear the sounds of daily life and celebration echoing through the city. It brings motivation and inspiration to my own life!
5. Carnival Walk
Randomly stumbling upon a parking lot carnival was probably one of my favorite moments of this month. Chuck and I were on our way to a show outside of Chicago and on our way in we saw a carnival that was set up in the parking lot of this mall.  We both kind of laughed and commented on how ridiculous carnivals are and kept on driving through the parking lot. When we got out of the show, the music and the lights from the rides were calling our names and we decided "What the heck, let's do it." WHY NOT, right?!  My inner child was totally unleashed. We played cheesy games, walked around reminiscing about all of the rides that we remembered from our childhood, and took in the free smells of the funnel cakes and popcorn.  It was a total unexpected blast.
May Playlist
This month's playlist is a little all over the place, but I have been LOVING so many different songs from a variety of genres that I had to include them all! I hope you enjoy!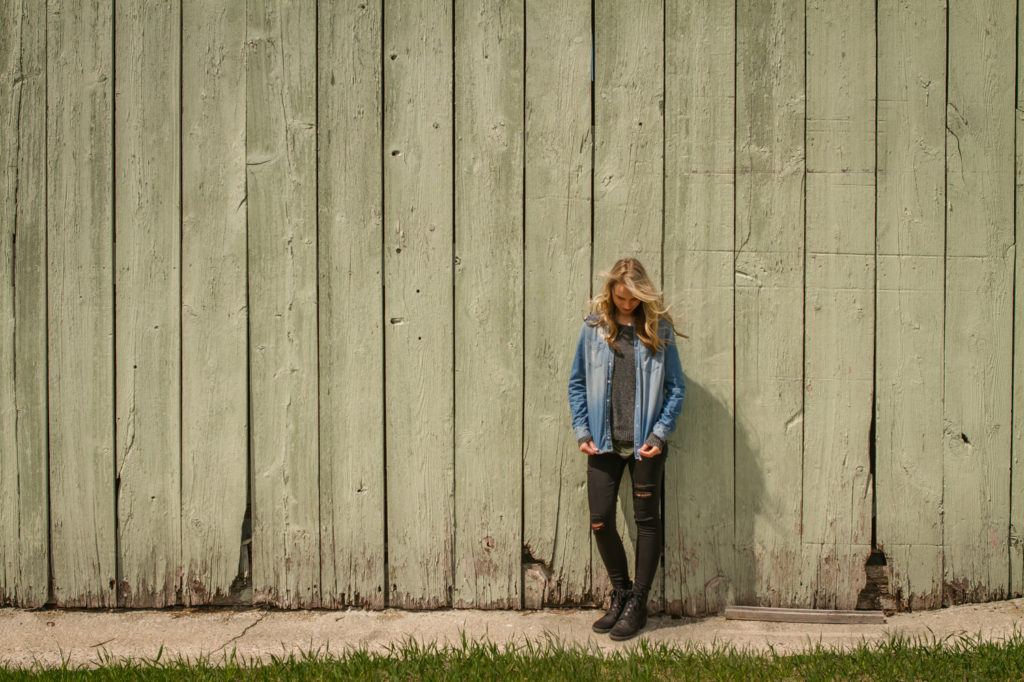 Featured on this month's playlist:
-New Robert DeLong (FINALLY)!! "Favorite Color is Blue" is DeLong's latest single. If you like electronic music that is a little out-of-the-box, check him out!
-The Cranberries for obvious reasons 😉
-"Saturday Sun" by Vance Joy.  This one will make you instantly happy.
-"Adore" by Amy Shark. This song came out almost two years ago in Australia so I am a little late to the game, but I absolutely love her sound and lyrics!
Thank you for checking out this latest edition of Citrus and Sun Moments!  Remember to use the hashtag #citrusandsunmoments on Instagram to share photos of some of your own moments! I can't wait to see what you're up to!
Thank you for stopping by Citrus & Sun!!!
Wishing you zest & light,
Stephanie