How many times have you said, "I need a vacation from my vacation?" Recently Chuck and I traveled to Orlando, Florida to have the Disney World/Universal Studios experience. I definitely came back feeling like I needed another vacation!  Our four days away from reality consisted of nonstop running around after a busy work week and not much sleep!
Photo by Studio Eiler @studioeiler
We were definitely not alone. Everyone around us seemed to be on the same fast track, hustling around from place to place trying to pack in as much as they could as the hours of the day passed by.  Taking in this busy scene led me to think about how we spend so much time planning for these big trips and anticipating them, and how they seem to come and go in the blink of an eye.
Adding Mindfulness To Your Travel Itinerary
While I definitely took time to pause and take mental snapshots during our trip, I still felt like it had all gone by way too quickly. On our flight back to Chicago, I decided to brainstorm some ways to build mindfulness into my future vacations to make sure that I am breathing in as much of my experience as possible!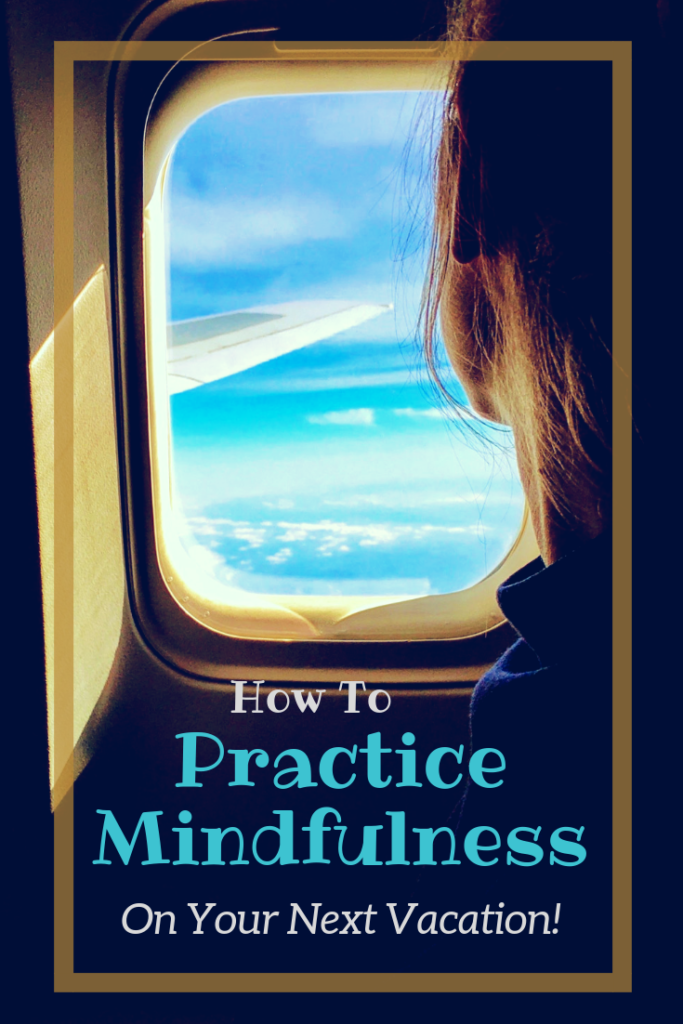 Notice details that photos are unable to capture
I love taking photos in daily life, so when it comes to going on a vacation I am always snapping away.  Taking pictures is such a great way to keep memories alive and capture moments that you can remember later.
That being said, I also think that there are so many parts of our experience that cameras just cannot capture — the smells, the weather, the conversations, the food that we eat, the feeling of the sand beneath our feet, or the way that the mountains seem to tower over the earth below. No matter where you are, pick out parts of your experience that cannot be captured through the camera lens and notice them. Sometimes all it takes is taking a quick pause to shine some light on something to make it memorable!
Write it down
In college I spent 6 weeks over in London studying English Literature. Every night I took about 10 minutes to write a few sentences in my journal describing experiences that I had that day, big and small.  Every single time I read that journal and see my handwriting, I can vividly remember that day and those memories.
Whether you write in a journal or notebook, type on a computer, or use the pad of paper from your hotel room, jotting down a few stand-out moments from you day can help you reflect on and appreciate your experience. It's also fun to read later!
[ctt template="2″ link="KsfEl" via="yes" ]Practicing mindfulness throughout your vacation could help your travel moments become more colorful and vivid each time you relive them through your photos, memories, and stories.[/ctt]
Get up early to enjoy a quiet moment
No matter how relaxing a vacation is intended to be, the day seems to turn busy the moment everyone is awake and out of bed.  Waking up a little earlier to have a moment to yourself and enjoy the stillness of your surroundings could help set a mindful tone for the rest of your day. If you miss the opportunity in the morning, try reserving at least 10 minutes in your day or evening to take a moment for yourself!
Set an alarm
Okay this might seem silly, but I am ALL about setting alarms to remind me to do things throughout my day.  Why not set two or three alarms on your phone a day to remind yourself to stop and smell the roses?!  Setting your alarm will guarantee you at least one reminder a day to slow down and take in the scene around you!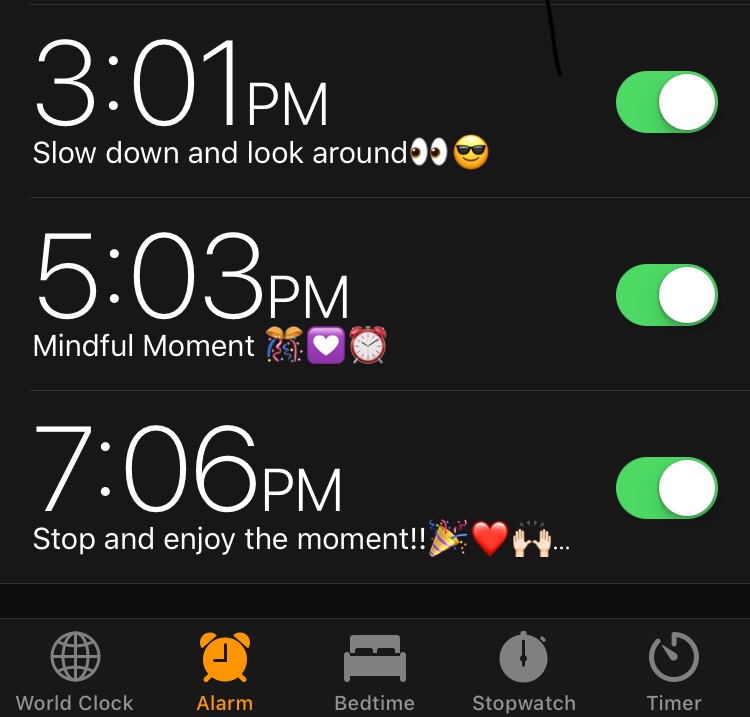 Let it go
It's easy to get hung up on something if it doesn't work out exactly the way you had planned. This is when mindfulness is the most important tool to have in your travel bag! Allow yourself to feel upset or disappointed (or both!), and then notice the parts of the moment that that are making you happy, or that are simply good. What is going as planned? While this isn't always easy when you're feeling like the travel gods are against you, it is essential in moving forward. My default thought to go to if I'm really stuck in a disappointing moment is to simply appreciate the fact that I am safe and with people I love. Try to focus on the good. Who knows — this change in plans could lead to an even better experience!
Print your photos
Recently I wrote a blog post on how I am making more of an effort to actually print my photos instead of letting them sit on my phone or my computer.  We take so many photos when we are on vacation – let's surround ourselves with these happy images when we get home! Make it a goal to print your photos within a month of returning from your vacation.  Display them around your home, put them in a memory box, or just flip through them relive the experience! Printing your photos and making them visible will help your vacation live on way after your homecoming. They might also trigger some of those mindful moments that you tucked away!
Keep Calm and Travel On!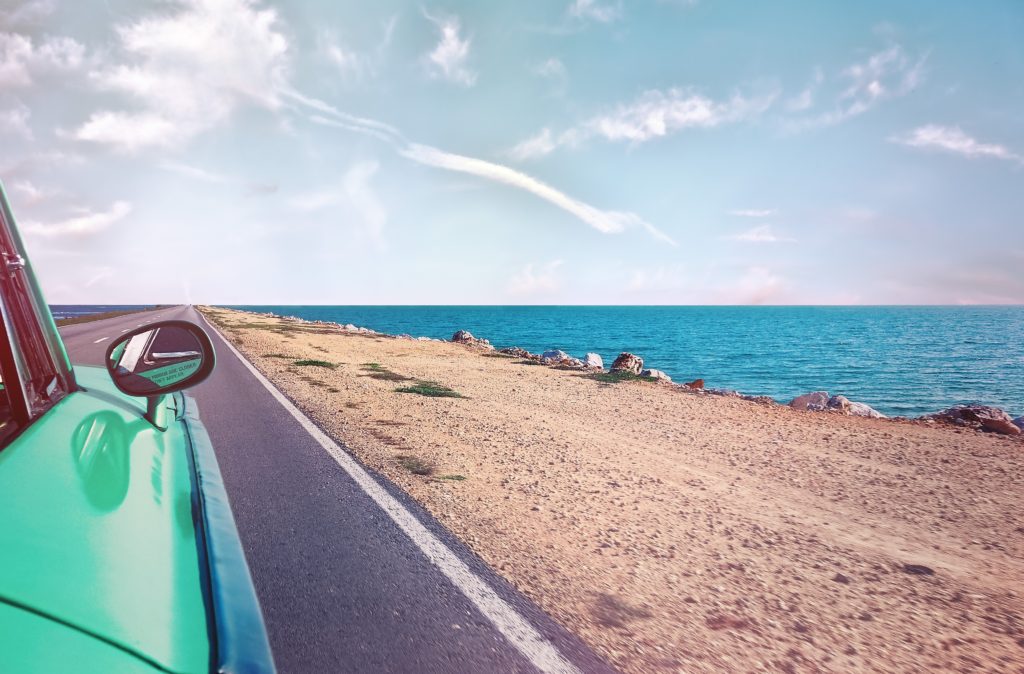 Moments pass by quickly, especially when we are away from our daily routine. We want to squeeze the most out of every second of our time! Practicing mindfulness throughout your vacation could help your travel moments become more colorful and vivid each time you relive them through your photos, memories, and stories. I would love to hear your ideas on how you take in experiences from your time on holiday!
Happy Travels!
Wishing you zest & light,
Stephanie